SEE Institute panel debates at WETEX & Dubai Solar Show: Consumers, industry, education and government all have to come together
by See Institute | Oct 4, 2022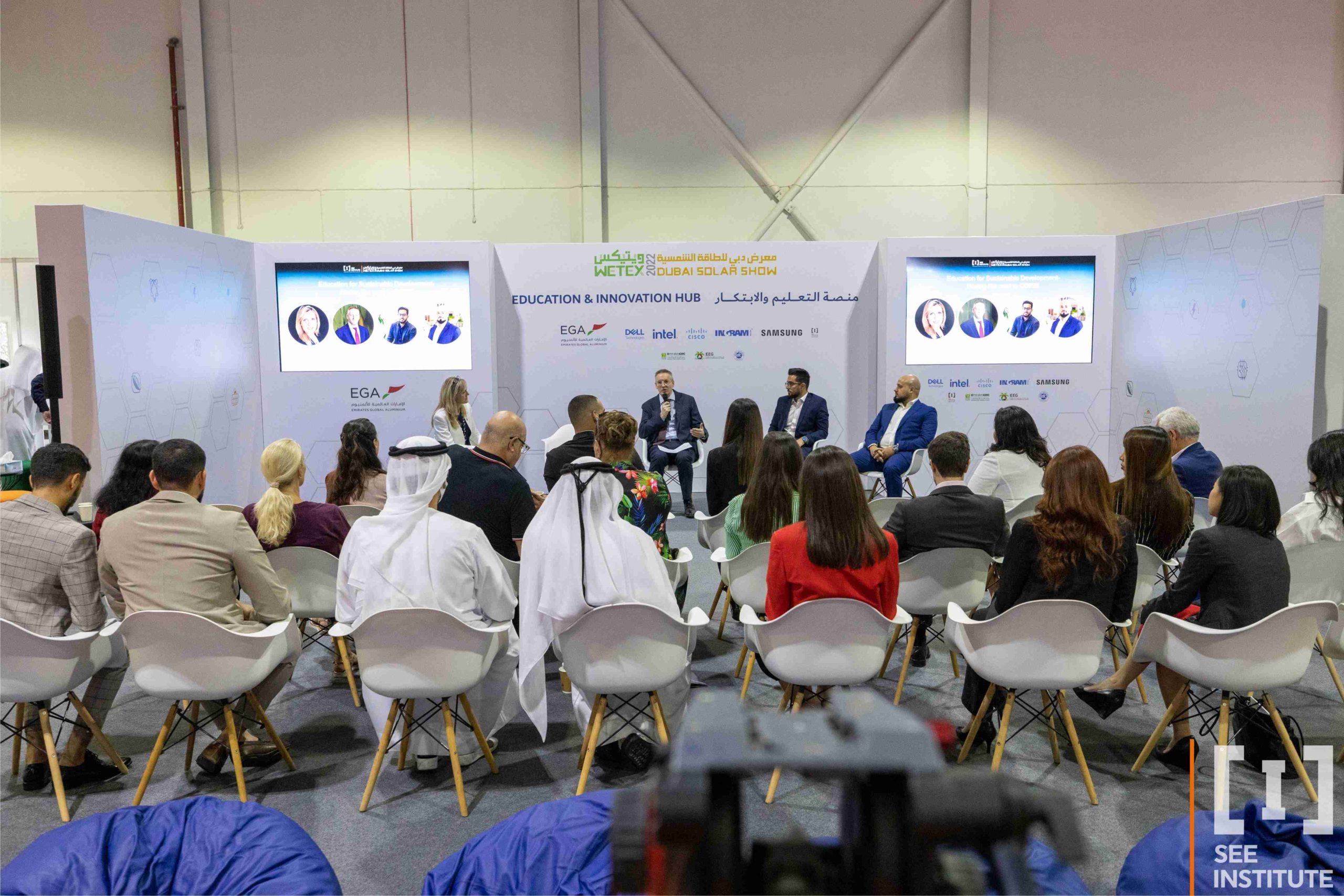 The annual WETEX and Dubai Solar Show took place last week in Dubai World Trade Center. The event is the region's largest sustainability and clean energy technology exhibition. For the first time, a Sustainable Education and Innovation Hub was part of the exhibition, and SEE Institute had arranged a full, knowledge-packed day of enlightening presentations and panel debates around sustainability. SEE Institute's main divisions are Sustainability through Education, Research, Innovation and Business Incubation respectively. The program and panels reflected this division.
Keynote speech – reskilling and upskilling needed
Kicking off the day was Dr. Jasmina Locke, Chief Executive Officer at See Institute. In her keynote speech, she zoomed in on the necessity of green talent – the human capital base needed to meet the increasing demand for green jobs now and in the future.
Dr. Jasmina Locke made the case for reskilling and upskilling on all levels: government, industry, workers and consumers.
Reskilling and upskilling to meet the sustainability demands is exactly what is at the core of SEE Institute
---
Education for sustainability – an integrated approach on the road to COP28
Dr. Jasmina Locke facilitated the first panel debate titled Education for sustainable development – Paving the road for COP28. In the panel was Professor Paul John Hopkinson, Head of Edinburgh Business School at Heriot-Watt University Dubai; Mr. Mohammad Elmoshnib, University Registrar and Canadian University of Dubai; and Mr. Mohammad Hani, Sustainability & Energy Engineer at SEE Developers. The panel debate highlighted the crucial role of the educational system in changing people's mindset around sustainability.
Prof. Paul Hopkinson made the important point that a much more interdisciplinary approach is necessary in addressing the challenges we face. A bridge between theory and practice needs to be built through applied, problem-based research and more partnerships between industry and academia.
Mr. Mohammad Elmoshnib stressed that sustainability topics must be embedded in any curriculum. An accreditation process in all sections of academia would ensure this embedment. A sustainability literacy is crucial if we are to make informed sustainability decisions.
Having recently graduated and transitioned to SEE Developers, Mr. Mohammad Hani addressed the gap in education today where sustainability guidelines and policies are not implemented, thus underlining the importance of the issues raised.
Dr. Jasmina Locke posed the tricky question if sustainability as a concept is becoming unsustainable. Prof. Paul Hopkinson argued that the apocalyptic messaging must change into a focus on how people's lifestyle can truly become better through sustainable living. The panel agreed that government support is needed. Only if government, education, industry and consumers all come together and realize their responsibility can we create true sustainable development and meet the net-zero targets.
Conscious consumerism – how responsible are we?
The second speaker of the day was SEE Institute's Head of Research, Dr. Jacinta Dsilva who defined conscious consumerism in the following way: when buying behavior is driven by a commitment to positive social, environmental and economic impact. Dr. Jacinta Dsilva stated that 73% of global consumers would change their consumption towards more sustainability.
In the ensuing panel debate, Dr. Jacinta Dsilva was joined by Dr. Rasha Bayoumi, Head of Research and Assistant Professor of Psychology at the University of Birmingham Dubai Campus; Anita Nouri, CEO at Green Energy Solutions and Sustainability LLC; and Benjamin McCabe, founder of McCabe & Partners and resident in The Sustainable City (TSC), Dubai.
Dr. Rasha Bayoumi described how psychologically awareness causes attitude change which again results in changed behavior. She said, "We are realizing our social responsibility, and a general shift is taking place in which we go from thinking 'They need to change' to 'I need to change'." That shift is hugely important.
Mrs. Anita Nouri stated that there is still a massive gap, and that this is why institutions like SEE Institute are so important. "Communication and education are essential," she said, "but people also have to be hit in the pocket to make a difference."
Mr. Benjamin McCabe described how a range of new technologies can help people take action in their everyday lives. Mrs. Anita Nouri spoke strongly about using our voices to speak up, for instance against too much wrapping.
Dr. Rasha Bayoumi ended the panel stressing that while these are bottom-up methods, a top-down approach is needed too, ensuring affordable high performance green solutions. She added equality to the equation, stressing that everybody should be able to make green choices.
Sustainable communities – the path towards a net-zero future
The third panel debate of the day was moderated by Mr. Obaida Al Melkhim, Senior Project Engineer at Diamond Developers. In the panel he had Mrs. Marwa Nahlawi, Head of Urban Planning at Diamond Developers; Tarek Barbarji, Senior Sustainability and Energy Engineer at Diamond Developers; Professor Tadhg O'Donovan, Deputy Vice Principal at Heriot-Watt University; and Eng. Mohammed Ayoub, Board Member and Chief Sustainability Officer at SEE Holding, Regional Commercial Director META, GE Renewables, Grid Solutions Board Member, Clean Energy Business CEBC.
The panel eloquently unfolded the three dimensions of Sustainability: social (S), environmental (E) and economic (E). Whereas Mr. Mohammed Ayoub described environmental sustainability, Mrs. Marwa Nahlawi provided examples of social sustainability from TSC, Dubai, e.g. the walkability and car-free zones which allow children and adults alike to meet and socialize.
In terms of economic sustainability, Mr. Tarek Barbarji described the meticulous process of ensuring low energy consumption in every unit and in the masterplan on a larger scale. Everything from how the houses are shaped and painted to the solar panel car parks play an important part.
Prof. Tadhg O'Donovan stated that TSC is a premium product contributing to making sustainability a desirable thing. He made the point that a lower standard of living is not likely to be accepted in the future, which is why it is important that the trade-off between sustainability and comfort is being addressed on both micro and macro level.
Sustainability should never be an afterthought
---
The importance of the ecosystem approach for the empowerment of sustainability innovation in the UAE
Next up in the SEE Institute program was start-up stories from the institute's business incubator Bedayat. Bedayat focuses on cultivating and empowering start-ups with sustainability in mind. Mrs. Theresa Doan, Head of Incubation & Living Lab at SEE Institute, guided a sustainability focused discussion with two companies who have their eyes on the future.
The panel explored the journey these companies have taken with Bedayat, especially the Living Lab program, in which they tested, validated and commercialized their business ideas, and discussed what it means to be one of the UAE's homegrown brands. Theresa spoke to Mr. Ahmad Hammoud, Head of GCC Operations at Alesca Life, and Mrs. Ceylan Uren and Mrs. Lara Hussein, Co-Founders of The Waste Lab, to hear their stories and share their future innovative plans.
The importance of the ecosystem approach for the empowerment of sustainability innovation in the UAE
In the final panel, SEE Institute's Ecosystem Builder, Dr. Hind Salih, lead a discussion surrounding the Ecosystem approach for the empowerment of sustainability innovation in the UAE. She was joined by Mr. Matteo Boffa, a sustainability and serial entrepreneur and investor – Forbes 30 under 30 from the Swiss Business Council, Dr. Marouane Khallouk, Assistant Professor of Innovation Management and Entrepreneurship at the University of Wollongong in Dubai, and Mrs. Hanane Benkhallouk, Executive Director at Sustain Leadership.
The panel discussed the key role that innovation plays in the push for sustainability in the UAE. The Ecosystem approach is a conceptual framework for resolving ecosystem issues and involves social, environmental and economic dimensions.
The day was a success with so many knowledgeable and skilled people coming together to make a joint sustainability effort on the road to COP28. Through these innovative and engaging discussions, SEE Institute hopes not only to spread awareness, but to foster the growth of ideas and connections within the sustainability sector. Reaching net-zero targets and ensuring sustainable development take collective effort. CEO, Dr. Jasmina Locke, is fervent about creating impact through SEE Institute and its research and courses in sustainability and emphasized that "Our goal is to support regional and global climate action by fostering the research and education of sustainability in order to accelerate the transition to a net-zero world."