---
First Net-Zero Emissions Building in the region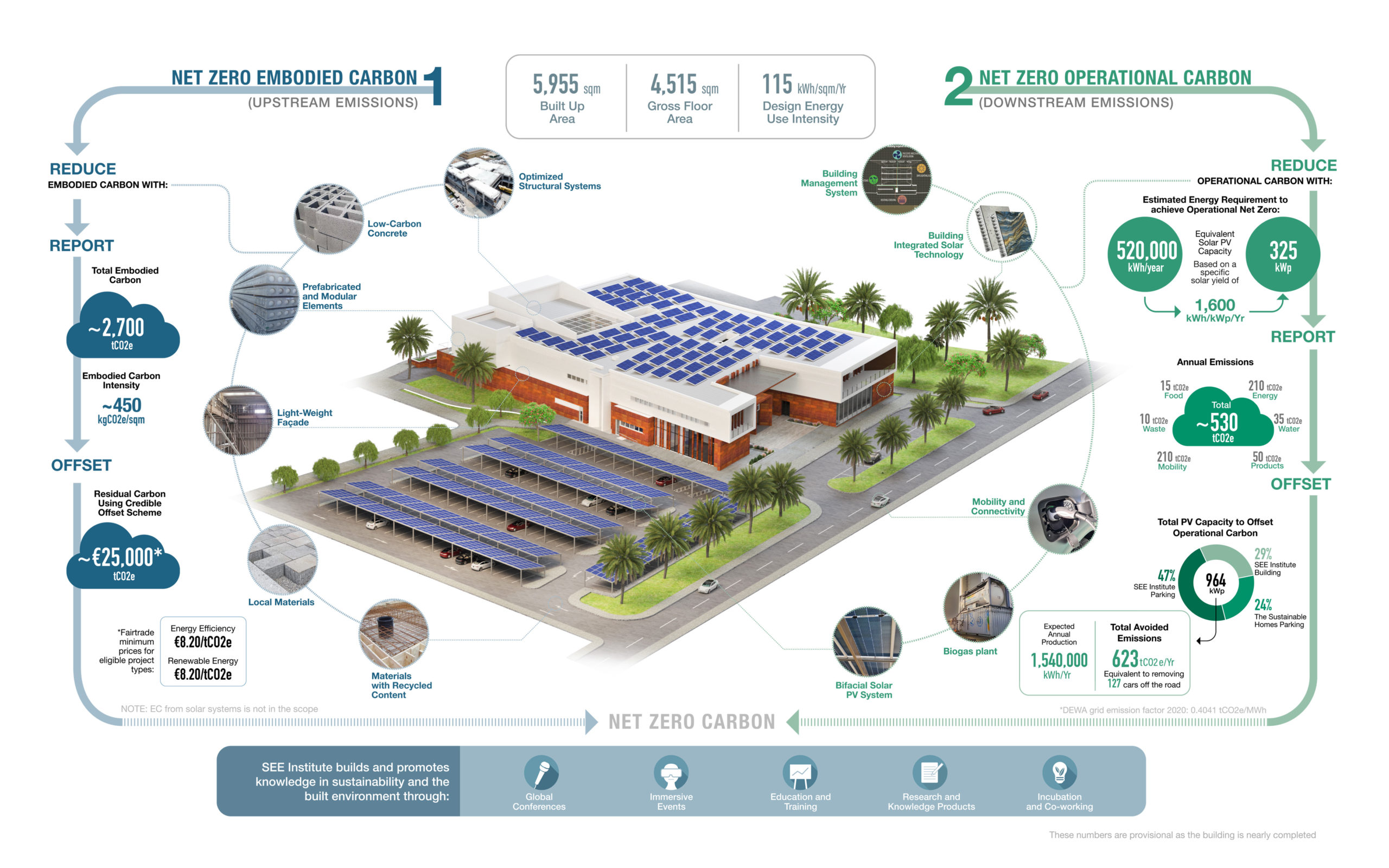 SEE Institute is the embodiment of our mission to spearhead the global sustainability education movement, in line with the aspirations of the Paris Climate Agreement and the urgency of worldwide climate action.
It also paves the way for bringing the UN 2050 targets forward and achieving a net zero emissions future today.
The SEE Institute building is registered under the ILFI Zero Carbon certification program.
This certification program addresses both embodied and operational carbon and calls for reduction and offsetting emissions associated with materials and construction and energy consumption, respectively.
We have implemented various strategies to reduce embodied carbon of the institute (compared to a conventional method of design and construction) through structural design and use of low-carbon materials (concrete, façade, rebar) and the use of modular elements.
Currently, international best practice for embodied carbon is capped at 500 kgCO2e/m2 for a built-up area. This target is also articulated by the above-mentioned Zero Carbon certification.
To keep the SEE Institute's embodied carbon below the recommended value, we conducted a life cycle assessment of the building using One Click LCA and implemented various strategies for reduction.
The structural design of the building was optimized to use fewer materials where possible.
All the major structural elements, such as beams and slabs, were prefabricated to eliminate waste and make the construction process more efficient.
All the construction materials were sourced locally to minimize transportation emissions.
Concrete is one of the biggest contributors to worldwide CO2 emissions. The concrete used for the project was selected on the basis of its embodied carbon. It contains up to 60% of Ground Granulated Blast-furnace Slag (GGBS) that has the same properties as cement yet causes much lower embodied emissions. As it does not require quarrying of virgin materials, it is less energy-intensive and diverts waste from landfills.
Steel, another important engineering and construction material, is also a substantial producer of emissions. The steel for the project was sourced from a local plant and has 97% recycled content.
A comparative analysis of several building systems was performed to select the best performing structure in terms of embodied carbon, insulation, and acoustics. Light-weight façade was found to be the finest option among the studied other six variants as it met all the considered criteria.
Most significant construction materials used in the SEE Institute building have Environmental Product Declarations which means that their embodied carbon arising from manufacturing was carefully calculated and externally verified.

Such measures allowed us to arrive at 450 kgCO2e/m2, including emissions from onsite machinery fuel use. This is a provisional value that will be finalized once the building is fully completed.


What is unique about our building?
---
LOCATED IN THE Sustainable City
SEE Institute is located in The Sustainable City (TSC), a residential community that represents an illustrative example of best environmental enhancement practices and various smart solutions blending together which allow not only to deliver a high quality of life to its residents but to be a living lab integrating research, innovation and experiential learning.
---
Hybrid Cooling System & BIOGAS PLANT
A small-scale biogas plant using anaerobic digestion is designed to handle up to 3,000 kg of organic waste per day to produce biogas and a digestate. The Biogas plant will divert the organic waste that is produced within the TSC. There is no combustion – digestion will produce approximately 321 m3/day of biogas which will be serving a direct-fired absorption chilled through a well-insulated and concealed pipe. The absorption chiller will contribute around 39% of the cooling load required in the SEE Institute which leads to a lower electrical use intensity
---
SEE Institute employed an integrated approach to energy demand-side management through passive and active design strategies, to achieve 100 kWh/m2/year of Energy Use Intensity. This includes orientation to the North, a highly insulated building envelope, a hybrid cooling system, and a building management system. Bifacial PV panels on the rooftop and adjacent car parks are able to meet 300% of the building's annual electricity demand, therefore offsetting GHG emissions from the building's day-to-day operation beyond just electricity consumption.
---
Low-carbon concrete produced locally, mixes, prefabricated structural elements and materials with recycled content allowed to minimize embodied carbon of the building compared to a business-as-usual practice by approximately 26%.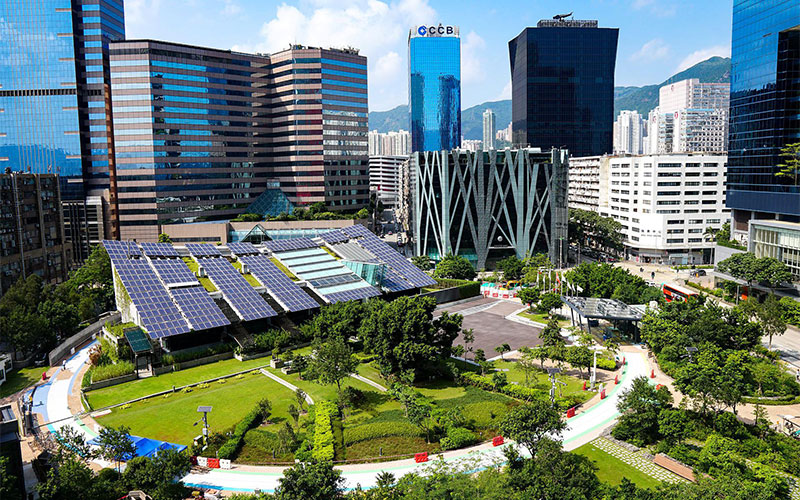 Why is Net Zero important?
---
---
Buildings represent 39% of global greenhouse gas emissions, including 28% in operational emissions and 11% in building materials and construction. Reducing carbon emissions in buildings will be critical to achieving the Paris climate goals and achieving net zero emissions by 2050.
Efficient, zero carbon buildings take advantage of available, cost-effective technology to reduce emissions while increasing health, equity and economic prosperity in local communities. A whole lifecycle approach implies a balancing of short and long term emissions.